Hanukkah is a tradition of freedom, courage, and peace. A time of renewed faith and hope celebrated by Jewish communities across the world.
The celebration runs 10 Dec 2020 – Fri, 18 Dec 2020
What is the Proper Greeting?
To wish someone a Happy Hanukkah, say "Hanukkah Sameach!" (Happy Hanukkah) or simply "Chag Sameach!" (Happy Holiday). Or if you want to show off your Hebrew skills, say "Chag Urim Sameach!" (urim means "lights").
And if you want learn how to pronounce it check out google translate.
History of Hanukkah
Hanukkah commemorates the rededication of the Second Temple in Jerusalem at the time of the Maccabean Revolt against the Seleucid Empire. A Jewish rebel army called the Maccabees rose up against their Greek-Syrian oppressors in the Maccabean Revolt of 167 BC (BCE). It celebrates the victory over a corrupt government by a ruler name Antiochus IV Epiphanes.
It is also known as the Festival of Lights when a miracle occurred when a lamp filled with one days's oil lasted for eight days.
Hanukkah Food
Of course any festival has it's special food and in the case of Hanukkah, it's all about deep fried cooking. Here are some ultra-inclusive Vegan versions of traditional Hanukkah dishes.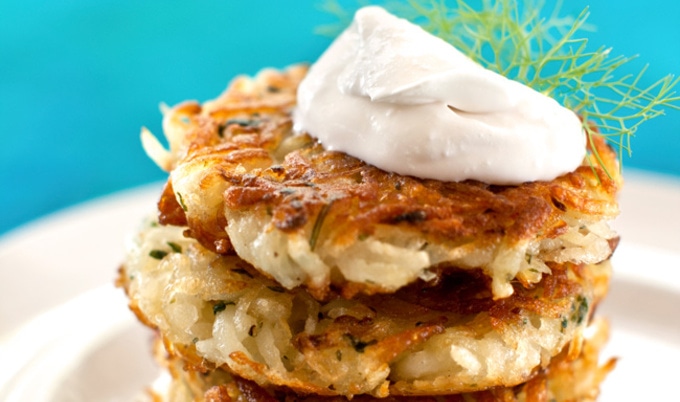 Vegan Latkes
Whether or not you celebrate Hannukah, these potato pancakes warm up winter mornings.
Vegan Sufganiyot
Jelly-filled donuts with orange zest and powdered sugar. An egg- and dairy-free version of a Hanukkah treat.
LGBTQ+ Info
Some links for further reading.
Kehillah North London  Synagogue is a trans inclusive Synagogue as well as belonging to the parent organisation Liberal Judaism. They also have some specifically LGBTQ+ projects listed on their website.
Jewish charity Keshet UK (means rainbow in Hebrew) who may be useful for Jewish trans people .
"Jewish LGBT+ (lesbian, gay, bisexual and trans) people often feel uncertain about their role in Jewish communities, and sometimes experience outright rejection. It's no surprise when this leads to poor mental health for some Jewish LGBT+ people and that some feel they have no choice but to leave.

We believe all UK Jewish communities can do more to become places where LGBT+ Jewish people and their families can feel included. "